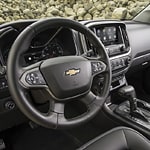 When you are looking for a truck that accomplishes everything you need it to and then some, the Chevrolet Colorado stands out as one worthy of your consideration. This popular mid-size truck is powerful, comfortable, and full of performance features that you can really feel good about owning. Check some of them out below.
The base engine included with the Colorado is 2.4-liters and four cylinders. Under the hood, you will gain 200 horsepower and 191 pounds per foot of torque that can help you tow just about anything that you need. In fact, you will get a towing capability of 3,500 pounds with this engine.
You can also choose to have your Chevrolet Colorado equipped with a Duramax 2.8-liter turbo-diesel engine. This moves the torque up to 369 lb./ft. You will also notice that you have a towing capability of 7,700 pounds. Take this mid-size truck on a test drive the next time you visit Davis White Chevrolet, LLC.